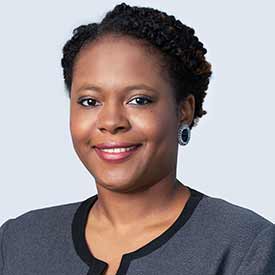 NAME: Jamie Hillaire-Thompson (Mrs.)
TITLE: Business Manager
ADDRESS: 135 Eastern Main Road, Tunapuna
Hi, Welcome to the NEDCO East Branch!
"My name is Jamie Hillaire-Thompson and I am the Business Manager of NEDCO East. I have been in the microfinancing industry for approximately 15 years with solid experience in Corporate Credit, Business Development, Project Management, and Credit Risk Assessment. I am dedicated to developing the acumen of small business owners and providing financing opportunities so that their ventures become sustainable entities and viable options for employment creation.
The East Branch was one of the first locations to open its doors to the public when NEDCO was established in 2002. We have been instrumental in the development and success of hundreds of businesses across East Trinidad. Our portfolio spans the entire eastern region from Tunapuna to Toco to Rio/Claro Mayaro.
With a combined experience of over 50 years in entrepreneurial development, our knowledgeable team continues to conscientiously serve this sector.
We look forward to supporting YOUR business to reach its full potential. Contact us TODAY!"
Getting THERE, Starts HERE!
Branch Staff
| | | | |
| --- | --- | --- | --- |
| (Ms.) Celene Mendoza | Senior Business Relationship Officer | This email address is being protected from spambots. You need JavaScript enabled to view it. | 821-5800 ext. 2203 |
| (Ms.) Leslie Ann Morris-Elisha | Loan Administrator | This email address is being protected from spambots. You need JavaScript enabled to view it. | 821-5800 ext. 2204 |
| Keneece Charles | Associate Professional | This email address is being protected from spambots. You need JavaScript enabled to view it. | 821-5800 ext.  2205 |