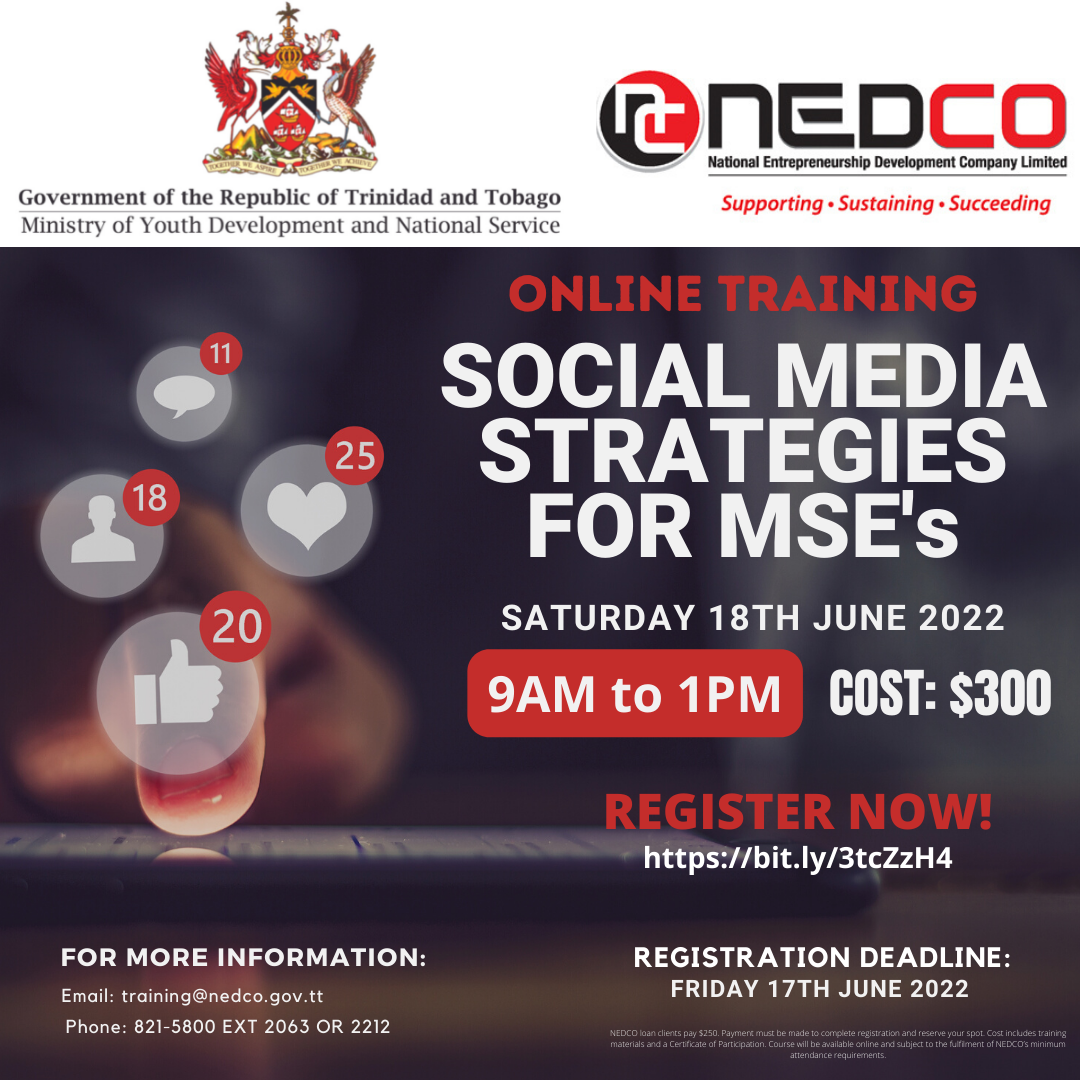 This training will assist micro and small enterprises (MSEs) by exploring a variety of strategies and tactics for Social Media Management, and providing a comprehensive understanding of the impact that social media has on businesses.
At the end of this training you will be able to:
Define what is Social Media and explain its importance to their business
Identify the type of social media that best suits their business
Set clear objectives and define your target audience as part of your social media strategy
Identify the content most suited to your objectives
Evaluate your success based on the achievement of the objectives
Date:
Saturday 18th June 2022
Time:
9:00AM to 1:00PM
Cost:
$300.00
VISIT OUR BIO or REGISTER NOW using the link in bio: 
https://bit.ly/3tcZzH4
Registration deadline: Friday 17th June 2022.
Payment must be made to complete registration and reserve your spot. Cost includes training materials and a Certificate of Participation.
For further information, Email:
This email address is being protected from spambots. You need JavaScript enabled to view it.
Phone: 821-5800 EXT 2063 or 2212
NEDCO – An Agency of the Ministry of Youth Development and National Service
#NEDCO
#SupportingTheMSEMarket
#SupportingSustainingSucceeding
#MYDNS
#Youth
#YouthDevelopment
#Entrepreneur
#Entrepreneurship
#StartUp
#SME
#MSE
#MicroAndSmallBusiness
#Loans
#SmallBusinessLoans
#AffordableLoans
#SmallBusinessFinancing
#QuickApproval
#BusinessDevelopment
#Training
#BusinessTraining
#EntrepreneurialTraining
#SmallBusinessDevelopment
#BusinessPlan
#BusinessPlanDevelopment
#SmallBusinessMarketing
#BusinessAdvisory
#Mentorship